In 1986 Garrett and Meg Weddle purchased a third generation family-owned business, Copenhaver's menswear. After some minor renovations and stock modifications, Garrett's menswear became a reality. It quickly grew to become a cornerstone business on Main Street Radford. In 1996 Garrett decided to branch out into real estate, and Meg took over the day-to-day operation of the business. In 2003 Garrett parlayed his real estate savvy into purchasing the buildings two doors up from the original Garrett's site. After a year of heavy remodeling and historic renovation, Garrett's and Meg's opened in its "new?location. Garrett's continues to serve the clothing needs of discerning men with a complete line of custom shirts and suits as well as lines by Hart Schaffner & Marx, AXIS, Cutter & Buck, Bill's Khaki, and Tommy Bahama.
Meg's specialty womenswear was established in 1992. After Garrett and Meg Weddle had successfully turned Garrett's menswear into a thriving business, Meg continued to get requests to fill a niche which was missing in the Radford area ? womenswear!
Building upon the success of Garrett's, Meg decided to branch out and introduce womenswear in order to better serve her clients. Today, Meg's specialty womenswear has grown into one of the premier women's clothiers in the New River Valley. Meg's carries labels such as Brighton, Tribal, Liz Claiborne, Merrell, and Joseph Ribkoff. Meg's specialty womenswear services their customers with complementary alterations, wardrobe planning and consulting and custom ordering.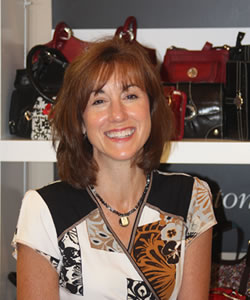 Meg Weddle
owner, women's purchasing, men's and women's sales
Store Hours
Sunday – Closed
Monday 10am – 5pm
Tuesday 10am -6pm
Wednesday 10am – 6pm
Thursday 10am -6pm
Friday 10am – 6pm
Saturday 10am – 5pm